The famous (infamous?) Rebel spy Belle Boyd is buried in Wisconsin, just outside of what was then Killborne, but is now known as Wisconsin Dells. I've visited the grave site three times, and each time there have been fresh flags or flowers.  Pictured are grandchildren Ben and Leah Van Kauwenbergh.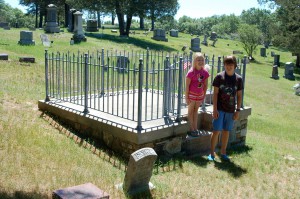 Belle was arrested for spying six or seven times during the War.  She escaped her last incarceration and fled Canada with the help of Union Navy Lieutenant Sam Hardinge.  She and Hardinge eventually made their way to England where they were married in 1864.  Belle wrote her memoirs and Sam died while there.
After a couple years in England she returned to the United States, remarried, raised a family, and then divorced.  To earn a living she began traveling the country giving lectures on her wartime exploits. In June of 1900 she came to Wisconsin Dells to speak to a Union veteran's group, and died from a heart attack two days after arriving.  She was 56 years old.  Stones from each of the Confederate states were used to build her grave site in Spring Grove Cemetery, Wisconsin Dells, WI.
Click here for a detailed account of her adventures during the War.