Hero of the Red River – The Life and Times of Joseph Bailey, by Michael J. Goc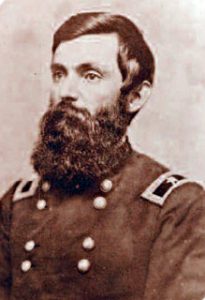 A Book Review by Gary Van Kauwenbergh
The story of Bailey building a dam to save the Union fleet trapped by low water during the Red River Campaign ranks right up there with the tales of the Iron Brigade and Old Abe the eagle in the annals of Wisconsin history. It is truly a Civil War version of 'The Little Engine That Could' story. These days I don't read many books straight through from beginning to end, but I did this one.
The Red River Campaign, where Bailey's fame was made, is a huge story. It is the largest Army-Navy campaign of the entire Civil War, and the Confederacy's last major victory. When the fleet of Union warships become trapped by low water during their retreat, Baily builds a dam similar to one he built in Wisconsin Dells to save them. This book gives a succinct recap of the campaign while telling Joseph Bailey's story, but the books focus is on Bailey. If you're looking for a detailed recap of the entire Red River Campaign, you'll need to go elsewhere, but this biography appears to be the best book on the market today telling the story of Joseph Bailey.
Joseph Bailey came to frontier Wisconsin near what is now Wisconsin Dells trying to make his fortune, and had to cope with land speculators and investors that would fit right in with the likes of modern-day swindler Bernie Madoff. That was common in frontier Wisconsin. Less common were settlers as industrious and able as Bailey, who rose to meet whatever challenges stood between him and his goals. Bailey's main talents were as a practical engineer and construction manager, but when needed, he also became a politician, a financier or whatever else was needed. He had no military training, but entered the army as company commander of Company D, 4th Wisconsin Volunteer Infantry Regiment, which was later converted to cavalry. Bailey is frequently detached from his regiment to perform engineering work.
The accolades Bailey receives after building the dam are indicators of the size of the accomplishment: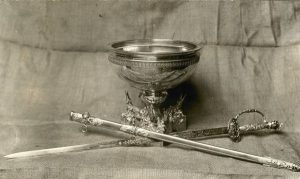 1. Bailey's fellow officers donated part of their in pay in silver coin and sent it to Tiffany's who formed it into a punchbowl for him.
2. Admiral Porter is so grateful he presents Bailey with $700 Tiffany sword.
3. Lincoln promotes him to two grades to Brigadier General, and gives him a Presidential citation which now hangs in the Dells Country Historical Society.
4. Congress also gives him a citation, one of only 15 they awarded, and this was the only one given to someone not commanding a Division or Corps.
5. A mural of Joseph Bailey is on the wall of the Executive Chamber in Wisconsin State Capitol
The impetus of this book comes from the discovery of a collection of letters between Bailey and his lawyer/friend Perry Shroud in a Wisconsin Dells attic. Local history buff Bud Gussel combines this new original source material with other not often cited references, along with more commonly used research then hires professional author Michael J. Goc to write the book. Goc has also written books on the Badger munitions plant, the history aviation in Wisconsin and the histories of Oshkosh, Lac Du Flambeau, and Sauk City, and more. Goc's writing is easy reading, clear, organized, and he puts out a lot of information in a short space.
The book sets the record straight on a number of commonly repeated myths about Bailey. For example, Bailey was never in the logging trade. It also lays out the two most probable scenarios around his unsolved murder less than two years after the end of the war.
This book is a gem. You can get a copy of it at http://www.generaljosephbailey.com/map/, a web site which also gives a thumbnail sketch of Bailey's life and accomplishments. The book is 303 pages long, well footnoted, and has 30 pages of pictures an illustrations.
You can also watch a slide show and hear the Old Soldier Fiddlers tell the tale and perform Bruce Burnsides song "Bailey's Dam" beginning at the 20 minute mark of the video at https://www.youtube.com/watch?v=J32zYXIdqH0&feature=youtube
A good video discussing the Red River Campaign is at https://www.youtube.com/watch?v=xl9tbYDgkMk